Six Flags Fiesta Texas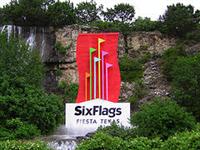 Six Flags Fiesta Texas ©
The city's biggest theme park and one of the best-known in the United States, the place keeps raising the bar with the recently added water rides to enhance its theme park rides, roller coasters and musical shows. Avoid eating a large meal before embarking on the Superman Krypton Roller Coaster, looping Boomerang coaster, or the Scream, which entails 20-story free fall. The rides all come with a rating, from mild to moderate to max.
The park has won Amusement Today's award for The Best Theme Park Shows in the Country for 10 years in a row. Xcelleration, a BMW-themed skills show is guaranteed to impress the teenagers, while cartoon-character themed shows are hosted throughout the year and musical concerts , particularly contry music, are also a regular occurence. Plenty of snack shops, ice cream parlours, barbecue restaurants and other fast food joints are available to fuel visitors on a long day out, and for those who tire of all the excitement, there are many shops available for more relaxed browsing. The park is happy to organise and coordinate group outings including picnics.
Address: 17000 IH 10 West
Website: www.sixflags.com/fiestaTexas/index.aspx
Telephone: (210) 697-5050
Opening times: Opening hours vary according to season. Check the website for specific dates.
Admission: Adults $64.99; children under 48 inches $51.99.