Buckhorn Saloon and Museum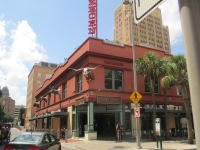 Buckhorn Saloon and Museum © Billy Hathorn
In the true spirit of the Wild West, the Buckhorn saloon contains over 8,000 wildlife exhibits, wax effigies, horns, and other western memorabilia. The saloon was opened in 1881 by a young Albert Friedrich, who discovered that many travellers in the Wild West had little cash on them to pay for drinks and food. However, what they did have were interesting artefacts collected on their travels. Friedrich accepted the horns and skulls of various animals as payment, and so the great collection began. Mrs. Friedrich herself preferred to collect rattlesnake rattles in lieu of payment that she then used to create unusual artwork still on display at the saloon.
Attached to the saloon is the Ranger Museum, filled with revolvers, handguns, shotguns, ranger badges, and more. The main Ranger Museum attraction, however, is a reproduction of San Antonio at the turn of the century that visitors can walk through to get a feel of the old town. There is also a shooting gallery, an arcade and a wonderfully eclectic shop, dubbed the "World's Oddest Store".
Apart from the museum, there is also an actual working saloon where visitors can choose from a selection of local craft beers and get the feel of an old-time saloon, decked out with the original marble and cherry-wood bar counter. The Buckhorn has been open for over 129 years and has rich and ribald history populated by cowboys, baddies, card sharks, and plenty of cattle. The original brass foot rail still lines the bar.
Address: 318 E Houston Street, two blocks from the Alamo
Website: www.buckhornmuseum.com
Telephone: (210) 247 4000
Opening times: Daily from 11am-3pm.
Admission: $20 adults, $15 children.