Byzantine Museum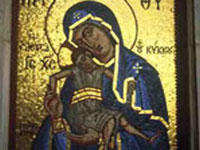 The largest collection of icons on the island of Cyprus is displayed in the Byzantine Museum in the Old City of Nicosia. The museum is in the grounds of St John Cathedral, adjacent to the Archbishop's Palace, in the heart of old Nicosia and there is a great variety of things to see and do in this area. There are nearly 300 icons on display, dating from the 9th through to the 19th centuries and salvaged from all over Cyprus. They are beautifully preserved and make a strong impact on visitors, especially those interested in religious art and iconography. The museum also contains an art gallery exhibiting oil paintings, maps and lithographs that give visitors insight into Cypriot culture and history. A particular gem in the museum collection are the seven fragments of the 6th century mosaics from the apse of the church of Panagia Kanakaria at Lythrankomi, and the fragments of wall painting from the 15th century, from the church of Christ Antiphonitis at Kalogrea, are another notable highlight. The collection is world-renowned and very well displayed.
Address: Plateia Archiepiskopou Kyprianou, Archbishopric
Telephone: 22 430 008
Opening times: Monday to Friday 9am to 4pm, Saturday 9am to 1pm, closed Sundays.
Admission: € 1 (adults); student discount available