Doha Fort (Al Koot)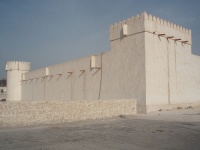 Doha Fort © Yantie Tingan
This Moorish-style relic of military power now exhibits historical photographs and artwork depicting daily life, as well as exhibitions detailing many Bedouin Sadu handicrafts and practices, including wooden ornaments, fishing equipment, boat-building, rope-making and gypsum-burning techniques.
While the examples may be unrefined, they are a true indication of the local people's ability to adapt certain objects and situations to suit their needs. The fort itself was built in 1880 during the Ottoman occupation. The fort was originally a military barracks and a police station before being used as a jail from 1906. One of Qatar's most celebrated tourist attractions, budget at least two hours to take it all in.
Address: Jassim bin Mohammed St, Al Bidda
Website: www.qma.com.qa/eng
Telephone: +974 4444 2747
Opening times: Open daily 9am-12pm, and 4pm-7pm (closed on Friday and Saturday afternoons).