National Monument of Indonesia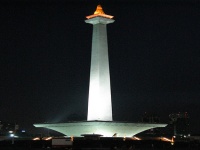 Visitors will inevitably be pulled to the National Monument (MONAS) to inspect the enormous obelisk that can be seen from much of the city. The first president, Sukarno, began to build the structure as a symbol of nationalism complete with an impressive weight of gold shaped into the tip's flames. For visitors it serves as a great landmark in an otherwise confusing city centre. Elevator rides to the top are available, providing a bird's eye view of the city. The monument and surrounding park are open to the public and there is a museum to visit which documents the Indonesian fight for freedom and independence; there is also a hall of mediation at the monument's base.
People often gather in the monument grounds at night and it is a popular meeting place for locals and tourists. The grounds are big and there is plenty of room for picnics and social gatherings - on weekends the park can get quite full. Although it is the city's main landmark, and a pleasant place for a stroll, the National Monument has little to offer except the views from the top and the small museum; however, it is still true that a visit to Jakarta would seem incomplete without seeing MONAS, and as it is situated near many other attractions you are unlikely to get through the city without stumbling across it.
Address: Lapangan Merdeka, Monas, Gambir
Opening times: 8.30am to 5pm daily, closed last Monday of every month
Admission: free