Indonesia Miniature Park/Taman Mini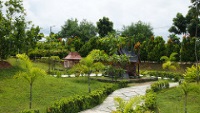 Taman Mini © Tun Tun Win
Indonesia is a vast place and it would take many holidays to explore the whole archipelago. A trip around Indonesia Miniature Park is useful and interesting because it offers samples of the different cultures and architecture to be found on some of the islands, including replicas of famous landmarks. Contrary to its name, the park itself is not small and covers 100 hectares of land. It includes examples of traditional buildings and cultural artefacts from all of the 27 provinces that make up Indonesia.
The park also regularly hosts food sampling, dancing and other cultural performances from each province. For those who like even more variety the park has a great orchid garden, fauna museum, and bird aviary - useful for those interested in seeing some of the wildlife found around the archipelago. Visitors can get a bird's eye view of the exhibits on the cable car, and there is even an IMAX movie theatre in the grounds.
Attached to Taman Mini is the Museum Indonesia which exhibits both historic and contemporary art collections. Visiting the museum and the park together gives tourists a great overview of the country and it isn't a bad place to start your Indonesian travels if you have some time to spare in Jakarta.
Address: Ceger, Cipayung, East Jakarta City
Website: www.tamanmini.com