Ethnographic Museum (former Folk Art Museum)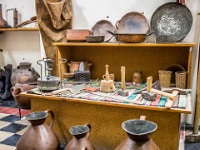 Ethnographic Museum of Cyprus © Sergey Galyonkin
The colourful collections in this museum represent Cypriot folk art of the 19th and early 20th centuries and it is the largest collection of folk art and crafts in the whole country. The museum's collection includes wood carvings, jewellery, woven goods, tapestries, embroidery, pottery and national costumes.
The Ethnographic Museum is housed in the Old Bishopric in a 15th-century Gothic building that used to serve as a Benedictine Monastery and then became the palace of the Archbishop. The building is a great attraction in itself, and its location in the heart of the old town means that it is surrounded by other attractions.
It is a very small museum which will only need half an hour or so of your time but if you are interested in how the people of Cyprus have lived in recent centuries, and the crafts they traditionally produce, then this museum is worth a visit.
Address: Plateia Archiepiskopou Kyprianou, Archbishopric
Website: www.mcw.gov.cy/mcw/da/da.nsf/All/38CF6DFE0977E664C22571990020C289?OpenDocument