Sochi Art Museum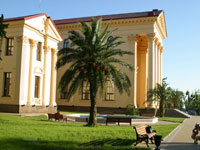 Built in 1936, the Sochi Art Museum is a work of art to look at. The classical architecture lends the relatively small museum a grand and ornate look. The museum's works tell stories of Sochi's history, such as the picture 'Italy' by Isaac Izrailevich Brodsky which is connected to the history of the health resorts. The works are constantly changing to display the art of some of Russia's greats as well as local artists.
Address: 51, Kurortny pr, Krasnodar area
Opening times: Open for pre-arranged tours only.