National Museum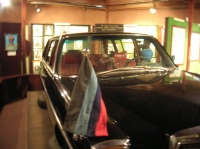 National Museum © Shiraz Chakera Follow
Occupying prime position on Lagos Island in the centre of the city, the National Museum contains a number of treasures and cultural relics of great interest. Take your diary along to record the experience as photography is not allowed.
Highlights include the exhibit 'Treasures of Ancient Nigeria: Legacy of Two Thousand Years', and the bullet-ridden black Mercedes in which former president Murtala Mohammed was assassinated in 1973. Also not be missed is the gallery of Benin brasses and the crafts village, where you can haggles for souvenirs.
Address: Awolowo Road, Lagos Island
Telephone: +234 (0)1 263 6005
Opening times: Monday to Saturday 9am-3.30pm, closed Sunday.