Lekki Conservation Centre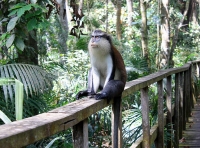 Lekki Conservation Centre © Clara Sanchiz
Situated on the Lekki Peninsula covering 190 acres (78 hectare), the Lekki Conservation Centre is perfect to experience the fauna and flora of this region's delicate ecosystems. You can see Mona monkeys, crocodiles, bush bucks, Maxwell duikers, and giant rats, among other fascinating creatures.
There are various trails and tree platforms to get the best vantage point. Visit in the early morning when the animals are most active. Tours need to be booked in advance.
Address: Km-19, Lagos-Epe Expressway, Lekki
Website: www.ncfnigeria.org
Telephone: +234 (0)1 546 0479
Opening times: Daily 8.30am-5pm, including weekends and public holidays.