St John's Cathedral (Agios Ioannis)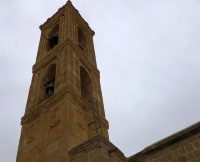 St John's Cathedral © Monika
The Orthodox Cathedral in the Old City was built in 1662 by Archbishop Nikiforos, dedicated to Saint John the Theologian. The cathedral was built on the site of a 14th century Benedictine chapel, also dedicated to St John.
The Cathedral's prize features are the iconostasis of carved wood covered with gold leaf, and the magnificent double-headed eagles. St John's is the only church in Lefkosia in which the internal wall paintings have survived in their entirety. The four large icons on the icon screen were painted by the Cretan master, Ioannis Kornaros, in 1795 and 1797, and the 18th century wall paintings depict the discovery of the tomb of St Varnavas at Salamina.
Although impressive from the outside the cathedral is tiny compared to many European masterpieces; the interior sets it apart, however, and makes it well worth the visit. Although the church is small, even by Nicosian standards, it is the official state church of Cyprus and contains an ornate throne for the archbishop as well as official seats for the President of the Republic of Cyprus and the Greek Ambassador to Cyprus.
Address: Archbishop Kyprianos Square, Archbishopric
Website: www.visitcyprus.com/index.php/en/discovercyprus/culture-religion/sites-monuments/item/189-sites-monuments