Old Muttrah Souk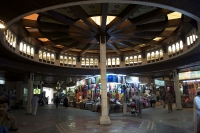 Old Muttrah Souk in Muscat © Shawn Stephens
Old Muttrah Souk is the most popular traditional bazaar in Muscat. The market is a small maze of narrow alleyways formed by adjoining stalls. Tourists can bargain with stall clerks over the prices of gold and silver jewellery, antiques, and other traditional goods. The market has a less forceful air than others, so visitors are free to wander at their leisure without overt pressure from touts. Although the Old Muttrah Souk is popular with tourists, locals shop here as well, giving authenticity to the market and mixing ornamental souvenirs in between household products and food.
Address: Hellat Scoral Lawatiya, Muscat
Opening times: Open 9am-1pm and 4pm-9pm Saturday through Thursday; open 9am-1pm on Fridays.