Old City Walls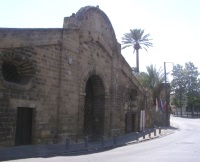 Famagusta Gate © Ewa Dryjanska
The walls that completely encompass Nicosia's Old City date from the Venetian occupation in the 16th century, and have a circumference of three miles (5km). Eleven heart-shaped bastions are interspersed along the walls, which have only three gates, in the north, south and east. One of the gates, the Famagusta Gate, has been restored and serves as the Lefkosia Municipal Cultural Centre, used for exhibitions, conferences, lectures and occasional performances.
The gate's vaulted passage leads on to the moat encircling the Old City, which has been planted to create a garden. This park area allows a great chance to stroll along the base of the walls in the garden and get a sense of their height, age and solidity. The moat was never actually designed to hold water, but as a treacherous open area that enemies would have to negotiate while the defenders attacked them from the walls
Unfortunately, you can no longer walk or drive the length of the fortifications but when you explore the old parts of the city you will encounter these impressive ancient walls (still so solid that they are clearly visible if you fly over the city) and they are one of the most popular attractions in Nicosia.
Address: Nicosia
Website: www.nicosia.org.cy/en-GB/discover/sights/the-medieval-walls/