Crocodylus Park and Zoo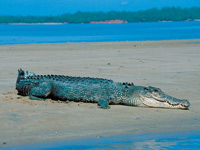 Housing over three decades of research on Australian crocodiles and a comprehensive crocodile museum, the Crocodylus Park and Zoo is designed to educate people about this lesser known predator. While the focus at the park is on crocodiles, there are plenty of other animals to keep visitors interested. At this, the largest attraction in Darwin, visitors can learn about these reptiles as well as view a collection of other animals such as big cats, monkeys, birds, snakes and turtles, to name a few. Regular daily tours, including crocodile feeding, will leave visitors captivated and enthralled by these prehistoric-like creatures. There are well-trained giudes who are willing to answer any questions about the crocodiles, both the speicies in general and the particular crocodiles housed at the park. Visitors are allowed to get as close as is safe to get the best pictures possible.
Address: 815 McMillans Road, Knuckey Lagoon
E-mail: services@wmi.com.au
Website: www.crocodyluspark.com
Telephone: (08) 8922 4500
Transport: From Darwin City, catch Bus #5 or #9
Opening times: Open daily from 9am to 5pm. Closed on Christmas Day.
Admission: A$35 (adults), A$17.50 (children). Concessions are available