Tamassos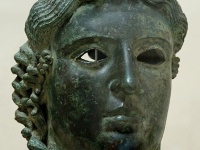 Tamassos bronze © Marie-Lan Nguyen
Tamassos, 13 miles (21km) south-west of Nicosia, was an ancient city kingdom renowned for its rich copper works. Recent archaeological excavations at the site have produced some exciting finds in the Royal Tombs. These were six limestone sculptures, two representing life-sized sphinxes and four lions, in a crouching position. The sculptures are believed to date to the 6th century BC when Cyprus was under Egyptian control. These artefacts are currently on display at the Cyprus Museum in Nicosia.
Unfortunately, extensive excavations of the ancient city have been prevented by its location under the modern village of Poilitiko. Three cemetries in the region have been discovered, dating respectively from the Bronze Age, the Archaic period and the Hellenistic era. Unlike most other ancient city states on Cyprus, there is no precise information from either history or tradition concerning the establishment of Tamassos as a human settlement, and its origins remain somewhat mysterious, although it is clear that it became an important trade city. The oldest known reference to Tamassos can be found in Homer's epic poem The Odyssey. There is a lot to see in Tamassos and it is bound to intrigue history buffs.
Address: Politiko village
Telephone: 22 622 619
Opening times: Monday to Friday 9:30am-5pm. Closed Saturday and Sunday.
Admission: €2.50