Ardastra Gardens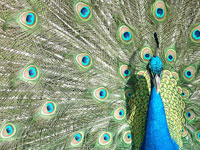 Visit the Bahamas' only zoo and see the renowned marching flamingo shows. The zoo was opened in 1937 by the Jamaican horticulturalist Hedley Vivian Edwards, and has been running since then. In the 1950's, the zoo hosted many flamingoes brought onto the islands in an attempt to revive the island's dwindling natural populations. The cheme worked well, so well that many of the flamingoes weren't needed for release into the wild and remained in the zoo, forming the start of the famous marching flamingo shows.
Originally only containing a handful of animals, the park is now home to more than 300 animals. Visitors can even encounter Bahamian boa constrictors, raptors and parrots as their trainers walk them along pathways throughout the zoo. There are special showtimes daily that allow visitors to hand-feed lory parrots, and a new feature is the jungle that contains lemurs from Madagascar and Capuchin monkeys. The natural setting of Ardastra Gardens allows many of the birds to roam freely and it is not uncommon to find parrots and peacocks at your feet. Other residents at the zoo include two jaguars, great horned owls, lemurs, monkeys and even a pot-bellied pig. The zoo is happy to host birthday parties and evenbridal events. The zoo is only a few minutes drive from Nassau on Paradise Island.
Address: West Bay Street
E-mail: info@ardastra.com
Website: www.ardastra.com
Telephone: +1242 323 5806
Opening times: Open daily from 9am to 5pm. Closed Christmas Day, Boxing Day and New Years Day.
Admission: $16 (adults) $8 (children). Concessions available.