Dubrovnik Port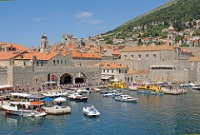 Dubrovnik Port © Dennis Jarvis
Lined with palm trees, Dubrovnik's Old Port is a major focal point of the city thanks to its unforgettable scenery. Located right next to the picturesque UNESCO World Heritage Site of the Old Town, the port features great shopping at small markets along its tiny cobblestoned streets as well as fantastic sightseeing opportunities.
Known as the 'Jewel of the Adriatic', the beauty and fun of the Old Port makes Dubrovnik a popular cruise port. The cruise liners generally stop off at the modern Port of Gruz in Dubrovnik, which is less than two miles (2,5km) from the Old Town. The old harbour has a rich history as a trading hub and continues this tradition through its delightful markets and quaint shops.
Many different kinds of boat tours are operated from the Old Town harbour and these trips offer a wonderful chance to explore the stunning coastline from the water. Many of these tours will point out attractions and landmarks, and provide insights into the port's history and Dubrovnik in general.