Stradun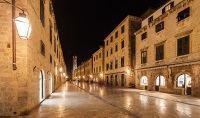 Stradun © Diego Delso
The biggest, longest and widest street in Dubrovnik, the Stradun dates back to the 13th century, while the uniform houses that line it were mostly built in the 17th century. The street is 958 feet (292 metres) long and is the commercial, entertainment and spiritual centre of Dubrovnik. The shiny, slippery, marble-paved Stradun is the main walkway of Dubrovnik's Stari Grad, and the best place to get a feel for the 'pulse' of Dubrovnik.
The Stradun holds many of the city's monuments and some great restaurants and shops. One of its more famous attractions is Onofrio's Fountain, which is located in a small square near the Pila Gate and Franciscan Monastery. This large fountain was built in 1438 by the famous Italian architect from Naples, Onofrio della Cava. After sustaining severe damage in a 1667 earthquake, the fountain was repaired and now features 16 masked faces, known as 'maskeroni', which supply water via an aqueduct. This construction was a masterpiece of its time. A smaller Onofrio's fountain is located on the opposite side of the Stradun.
A walk down the Stradun is a good introduction to Dubrovnik and it is the first stop of many visitors.