Tombs of the Kings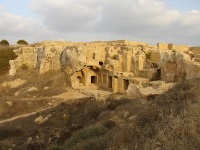 Tombs of the Kings © Mgiganteus1
There are actually no kings buried here. Rather, the site known as the Tombs of the Kings, one mile (2km) northwest of Paphos Harbour towards Coral Bay, was the final resting place of about 100 Ptolemaic aristocrats who lived and died in the city between 3 BC and 3 AD. The tombs are impressive, carved out of solid rock, with some featuring Doric pillars and frescoed walls.
Archaeological excavations are ongoing at the site, which also features a church known as Paleoekklisia, which sports traces of Byzantine frescoes. This incredibly interesting site usually features very high in tourist reviews of Paphos and it is thrilling to explore; there are few ancient burial sites in the world which you can explore with such freedom. The tombs are carved into a cliff above the sea and are beautifully situated. There is little shelter from the sun so be sure to come prepared with water, hats and sunscreen and try to avoid the hottest time of the day.
Address: 1 mile (2 km) north-west of Paphos harbour towards Coral Bay, Kato Paphos
Telephone: 26 306 295
Transport: Bus 10 or 15 from Kato Paphos
Opening times: Daily, mid-April to mid-September 8:30am-7:30pm; mid-September to mid-April 8:30am-5pm.
Admission: €2.50