The Shrine of Sidi Abderrahman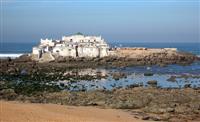 Located past the ocean-side neighbourhood of the Corniche, the Shrine of Sidi Abderrahman is built on a rock out at sea and is only accessible at low tide. Non-Muslims are not allowed to enter the shrine, but travellers wishing to explore the tiny neighbourhood around it are permitted to do so. Most visitors just opt to admire it from a distance, catching a glimpse of the shrine and its breathtaking white walls while walking along the beach. Traditionally, people visit this shrine to heal mental illness and it is one of Morocco's most famous coastal shrines.
The Corniche was once a thriving resort area and there are still many hotels, nightclubs and restaurants lining the coastal boulevard (Boulevard de la Corniche), but many of these now look somewhat rundown and there is a sense that the place is past its prime. The Boulevard de l'Ocean Atlantique is now the more glamourous street, where newer and more upmarket accommodation can be found. One thing the Corniche neighbourhood does have in abundance is international fast food chains and this in combination with the American-style movie theatre makes it a good place to visit for those needing a comforting taste of home.