Temples of Angkor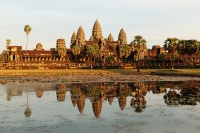 Angkor Wat, Cambodia © Juan Antonio F. Segal
The magnificent Temples of Angkor are a must-see on any trip to Cambodia, taking the visitor into the heart of the ancient Khmer Empire. Built between the 9th and 13th centuries, more than 100 temples have been uncovered as evidence of this impressive ancient civilisation and one of the biggest cities of its time. Angkor Wat is the largest religious monument ever built, an impressive Hindu temple surrounded by a moat, and acknowledged as one of the wonders of the world. The walled Royal City of Angkor Thom is home to the Bayon Temple and its huge stone faces, another fascinating attraction. Khmer architecture is unique and although it evolved from that of the Indian subcontinent, and borrowed from neighbouring traditions, Angkor Wat stands as testament to the power and individuality of the Khmer's ancient oriental art form.
The complex includes ancient ruins, well-preserved temples, religious sites, monuments and lots of stone work and will take you a few days to explore in entirety. If your budget allows, you can see Angkor from the air in a hot air balloon or helicopter. It is particularly special to see the temple complex at sunrise and sunset, and it is best to avoid going during the midday heat. Don't forget hats and drinking water and wear comfortable walking shoes. Also note that visitors are expected to dress respectfully and ticket vendors may refuse entry to those showing too much skin.
Address: Three miles (5km) outside Siem Reap.
Opening times: Daily 5.30am-6pm.
Admission: $37 for 1 day ticket, $62 for 3 day ticket, $72 for 7 day ticket. Free for children under 12.