The Mosaics of Paphos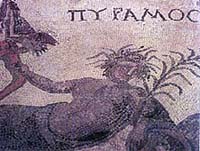 The striking mosaic floors in a series of ancient Roman noblemen's villas, dating from the 3rd to the 5th century, are a must-see for visitors to Paphos. The site where the villas are still being excavated can be found about 300 metres from the Paphos harbour. The mosaics featuring mythological scenes are visible in the houses of Dionysus, Orpheus and Aion, and the Villa of Theseus.
The Villa of Dionysus was so named because of all the mosaics depicting the god of wine; similarly, the Villa of Theseus boasts a famous mosaic of Theseus slaying the minotaur. There are also stunning mosaics to be seen in the House of Four Seasons, so named after the piece depicting personifications of the seasons. All the mosaics were made of small cubes of marble and stone, called tesserae, with glass paste added to widen the range of colour. In the House of Dionysus, for example, 5,985 square feet (556 sq metres) of floor space in 14 rooms are covered with the gorgeous mosaics, which are a highlight of any trip to Cyprus.
Address: Kyriakou Nikolaou Street
Telephone: 26 306 217
Opening times: Daily 8:30am-5pm (mid-September to mid-April), 8:30am-7:30pm (mid-April to mid-September)
Admission: €4.50