Artis Zoo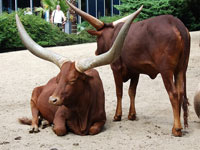 Locally known as the Plantage, the Artis Zoo is something of an oasis in the centre of Amsterdam and a must for children and other animal lovers. Boasting over 700 species of animals and 200 species of local and exotic trees, many of which are on the verge of extinction, the Artis Zoo will captivate and amaze visitors of all ages. The grounds are huge and can easily keep visitors busy for hours; it is advisable to get a map to avoid getting lost or missing something you want to see. Although the zoo is best on a sunny day, there are plenty of indoor attractions and undercover areas for when the weather isn't ideal. The animals appear to be healthy and well cared for and even those who tend to get upset by seeing large animals in captivity will find plenty of attractions to entertain them, like the aquarium, butterfly house, planetarium and a handful of museums. There are several restaurants in the grounds and a shop selling souvenirs like postcards, books and toys. Tickets can be bought in advance online to avoid queues at the entrance - check out the official website below for details.
Address: Plantage Kerklaan 38-40
E-mail: info@artis.nl
Website: www.artis.nl
Telephone: (0)20 523 3400
Opening times: 1 April to 31 October: Open daily from 9am to 6pm; 1 November to 31 March: Open daily from 9am to 5pm
Admission: €19.50 (adults); €15.95 (children aged 3 to 9). Concessions are available. Ticket also provides admission to Planetarium, Geological Museum, Aquarium and Zoological Museum.