Efteling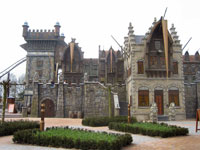 Flying Dutchman Castle © Hullie
Built in the 1950s and still one of Europe's leading theme parks, Efteling is a must for children of all ages. Kids are sure to relish its special attractions, which include a maze, water show, bobsleigh course, creepy ghost castle and swinging-ship ride. They will also find theme-park classics, such as several roller coasters, carousels and playgrounds. Games, activities, restaurants and refreshment stands are also on offer. Queues get very long, particularly in peak tourist season (summer), so it's best to arrive early.
Address: Europalaan 1, 5171 KW Kaatsheuvel
Website: www.efteling.com
Telephone: +31 416 537 777
Opening times: Open daily from at least 10am to 6pm, with extended hours in summer (July through August).
Admission: Tickets range from about €38 to €42, with concessions and plenty of specials available.