Madurodam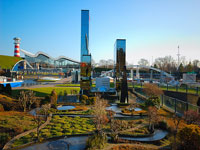 Located around 30 minutes outside of Amsterdam in The Hague, and first opened in 1952, Madurodam is quite literally the smallest city in the Netherlands, featuring hundreds of miniature Dutch structures. The park features houses and factories that reflect real Amsterdam architecture, exact replicas of famous Dutch landmarks, and incredible little transport systems like railways, ships and airports. Children will be captivated by the sheer genius of this little city and adults should enjoy it just as much. Like a giant toy railway with a model city, this attraction is old-fashioned, quaint and delightful, but it has recently been renovated extensively and feels brand new and impressively well-constructed and designed as well. For a small cost, usually just a few cents, parts of the miniature models will actually start working, such as trucks moving down the little highway and planes landing and rolling down the little runway at Schiphol Airport. The detail is incredible and families will have fun taking photographs and playing with scale. There is a shop and two restaurants at Madurodam, but visitors should note that the restaurants have different opening times to the park itself and may not be open until 9pm. There is a discount for tickets booked online.
Address: George Maduroplein 1, The Hague
E-mail: info@madurodam.nl
Website: www.madurodam.nl
Telephone: (0)70 416 2400
Opening times: Open daily from 9am to 9pm.
Admission: €15 (Adults), €10.50 (Children aged 3 to 12). Concessions are available.