Madurodam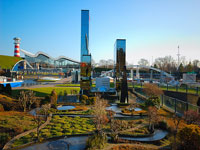 Madurodam © Misty and David
Located around 30 minutes outside of Amsterdam and first opened in 1952, Madurodam is quite literally the smallest city in the Netherlands. The park features hundreds of miniature houses and factories that reflect real Amsterdam architecture, exact replicas of famous Dutch landmarks, and transport systems such as ships, airports and railways. Children and adults alike will enjoy the attraction, and will find many tremendous photo opportunities as they stroll around. Visitors can also activate parts of the park for a small cost, setting trucks moving down highways, or getting planes to land. Otherwise, visitors can buy souvenirs in the park's shop, and purchase refreshments at one of its restaurants.
Address: George Maduroplein 1, The Hague
Website: www.madurodam.nl
Telephone: +31 70 416 2400
Opening times: Open daily from about 9am to 8pm; there are seasonal fluctuations to opening times.
Admission: €17.50 (Adults). Concessions are available and bookings can be made online.