Attica Zoological Gardens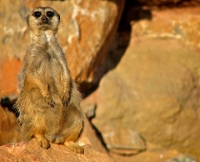 Meerkat at Attica Zoological Gardens © Antonis Lamnatos
Attica Zoo is unique in Greece. Featuring exotic animals such as lynxes, Angolan lions, and Persian leopards, plus more than 30 bird species, it's a must for animal lovers of all ages.
Striving to combine education with entertainment, the zoo takes visitors on a journey through a number of themed sections, showcasing more than 2 000 animals from 350 species. Visitors can explore a reptile house, a children's farm, a monkey jungle and other walk-through enclosures.
Address: Yalou, Spata 19004
Website: www.atticapark.com
Telephone: +30 21 663 4724
Transport: Bus Lane 319 (From Doukisis Plakentias Station) every 35 minutes.
Opening times: Open daily from 9am until sunset.
Admission: €18 (adults); €14 (children aged 3 to 12, pensioners over 65, and students with valid ID); children under 3 are free. Other concessions available.