Attica Zoological Gardens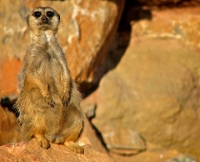 Meerkat at Attica Zoological Gardens © Antonis Lamnatos
The wonderful Attica Zoo is a must for children of all ages, and indeed for animal lovers of all ages. Featuring more than 2,000 birds of 30 different species, as well as exotic animals such as lynx, white lions, black panthers, snow leopards and jaguars, this zoo is the only one of its kind in Greece. The zoo strives to combine education with entertainment and takes visitors on a journey through five continents with more than 2,000 animals from 350 different species. It also features a reptile house and a children's farm as well as other walk-through enclosures, including a monkey jungle. There are no animal 'shows' or performances at Attica Zoo as this is not in line with their ethical code regarding respect for animals, but feeding times are entertaining - check the website for details. The zoo is clean and well-run and the animal habitats are impressive.
Address: Gallous Street, Spata
Website: www.atticapark.com
Telephone: +30 21 0663 4724
Transport: Bus Lane 319 (From Doukisis Plakentias Station) every 35 minutes.
Opening times: Open daily from 9am until sunset.
Admission: €16 (adults); €12 (children aged 3 to 12, pensioners over 65, and students with valid ID); children under 3 are free. Other concessions available.