Agia Solomoni Catacombs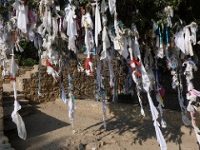 Tree and cloth pieces © Monika
A large pistachio tree marks the entrance to the underground catacombs of Agia Solomoni in Kato Paphos. The tree is a strange sight, festooned as it usually is with pieces of cloth tied onto it by the faithful as offerings, in the hope that this sacred tree will cure various ailments. The catacombs themselves were carved into Fabrica hill, below the ancient Roman city wall, in the 4th century BC, and later became chapels for the early Christians.
The underground chapels feature some interesting frescoes and graffiti left by 13th century crusaders, and there are numerous legends and stories attached to the patron saint Ayia Solomoni. A number of visitors have pointed out that if you do not look around a bit you will only see a small portion of the catacombs - there is also little or no guidance or information on offer at the site so it is best to do some research before you go to understand what you are looking at.
There is a small section of catacombs next to a sign on the main road and this part has christian chapels incorporated, but these only take a few minutes to visit. There are others close by, a little down the road, that are carved into the hill and boast some mosaics. There are even some other tunnels nearby that lead you to a manhole cover in the road above. With a little exploration this spooky place will delight visitors and there is something very special about the freedom with which you can wander. Visitors are advised to take a torch along to explore the catacombs.
Address: Agio Pavlou Street
Website: www.cyprusisland.net/churches/agia-solomoni-church-and-catacombs