Allou Fun Park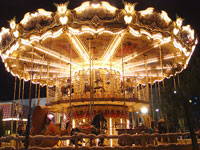 Carousel © Elenapaint
Athens' most popular theme park, and one of the most popular in Greece, Allou Fun Park offers children and adults the opportunity to enjoy some seriously exciting rides. There are rides to suit every age group and thrill threshold, from the serene and relaxing to the eye-poppingly scary. The views over the city of Athens from the top of the panoramic ferris wheel make great photo souvenirs. Children under 10 years of age will do better to go to the next-door section of the park called 'Kidom' which is tailored to younger kids. There are lots of games, activities and great meal and snack options available so it is easy to spend a whole day or night enjoying the park.
Access to Allou is technically free - which is wonderful for those family members who are keen to just soak up the festive atmosphere - but rides and activities must be paid for and there are a variety of payment options. For those planning to spend a few hours enjoying the rides the best option is the Allou Day Pass, which allows limitless access to almost all of the rides and games.
Address: Agios Ioannis Rentis
Website: www.alloufunpark.gr
Telephone: (210) 425 6999
Opening times: Open Monday to Friday 5pm to 1am; Saturday and Sunday 10am to 2am.