Hellenic Children's Museum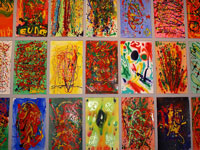 Children's Mosaic © Paul J Everett
The Hellenic Children's Museum is a non-profit educational and cultural organisation that was established in Athens in 1987 and aims to encourage children to explore, learn, discover and question all around them. The museum is located in two houses which have been specifically designed for use by children, and kids will be excited to find a museum dedicated to their amusement rather than the more traditional ones they get dragged to. The space is full of games and interactive exhibits and a variety of activities are organised for visitors. An activity might be something like learning how chocolate is made, helping to make it, and then getting to eat it! The Hellenic Children's Museum is both educational and extremely entertaining and it is frequented by locals as much as by tourists. The staff are very friendly and capable and know just how to entertain their little visitors. The museum is best for children under 10.
Address: 4 Kidathineon
Website: www.hcm.gr
Opening times: Open Tuesday to Friday 10am to 2pm. Saturday and Sunday 10am to 3pm. Closed on Mondays.
Admission: Free entry.