Acropolis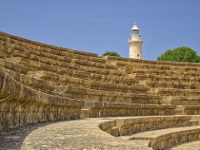 Odeon and Paphos lighthouse © Sergey Galyonkin
Near the modern Paphos lighthouse is the Cypriot Acropolis: a complex of ancient buildings, including a Roman Odeon, built in the 2nd century, which has been restored and is now used for summer orchestral and stage performances. The Odeon was the focus of the ancient city centre, of which some ruins still remain in the area. South of the Odeon are the remnants of the Roman Temple of Asclepius, the God of Medicine, and north of the lighthouse are the ruins of the ancient town walls.
One of the highlights of the acropolis is the stunning set of mosaics near the harbour, which are one of Cyprus's world-renowned ancient treasures. These incredibly well-preserved works of art often top the list of Cyprus attractions and have been delighting visitors for decades. On a more modern note, you can walk right up to the lighthouse and the views are lovely.
Touring this incredible area can be swelteringly hot as there is not much shade, so it is best to come prepared with water bottles, hats and sunscreen. Better still, try to arrive either early in the day or late afternoon to miss the worst of the heat and crowds.
Address: Kato Paphos
Website: www.cyprusisland.net/attractions/paphos-acropolis-odeon