Berlin Zoo-Aquarium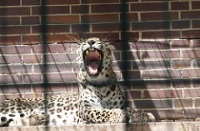 Leopard © Nigel Swales
Children and families love nothing more than trips to the zoo or the aquarium, and Berlin's stunning Zoo-Aquarium combines both. The facility is the most popular zoo in Europe, entertaining more than three million visitors each year. It offers visitors the opportunity to marvel at some spectacular animals, and with immense biodiversity children of all ages will love getting a close look at everything from rhinos to sharks to monkeys to penguins to pandas. Feedings take place daily at half-hour intervals between 10.30am and 4pm; for details on the feeding times of specific animals check the website. You can also take specialised thematic tours like South America, Asia, Africa, and Animals of the Bible. The zoo and aquarium often put on special tours for events during the year, like Halloween, Easter and Christmas so keep a look out for these if you're travelling in Berlin with kids.
The world's largest inner-city park, Tiergarten, adjoins the zoo and a visit is pleasantly combined with a stroll or a picnic in these beautiful gardens.
Address: 32 Budapester Street
Website: www.aquarium-berlin.de
Telephone: (0)30 254 010
Opening times: Zoo: 1 January to 19 March 9am-5pm; 20 March to 3 October 9am-7pm; 4 October to 31 December 9am-5pm. Aquarium: open daily from 9am-6pm.
Admission: Aquarium or zoo only: €13 (adults); €6.50 (children under 15). Zoo and Aquarium combined: €20 (adults); €10 (children under 15). Concessions available.