Grips-Theater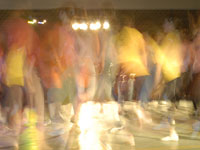 The renowned and respected Grips-Theater is a fantastic place to take the kids while on holiday in Berlin. Children will enjoy the spectacular shows and dancing and entertainment. Located in the Hansaplatz, the theatre encourages children to think critically about life. The educational aims of the shows are always presented in a fun way throughout performance season, which includes four new plays per year with more than 300 performances. The theatre now produces a few shows for adults as well, but keep in mind that performances are in German. The language barrier doesn't seem to worry children nearly as much and the performances are high on physicality, sounds and visuals which get the message across even if you can't understand the words - this is not necessarily the case for the adult performances though. When you are booking a show ask for recommendations about which would be best for non-German speakers. The Grips-Theatre is one of the most famous children's theatres in the world and will delight kids.
Address: Altonaerstrasse 22
Website: www.grips-theater.de
Telephone: (0)30 397 474 77
Opening times: Most shows start at 7:30pm, but there are some matinees from time to time. Theatre closes from late June to mid-August.
Admission: €4-18, depending on the show.