Safari Park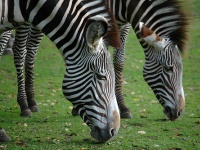 Zebra © mape_s
A great day out for the kids is a trip to the Safari Park, set in an African-style savannah landscape and home to giraffe, camels, zebras, elephants, hippos, bison, bears, baboons and rhino, as well as some entertaining monkeys, among other things. The main wildlife attraction of the park are the big cats, including lions, tigers and cougers. Many of the animals are allowed to roam free, simulating an African safari experience that lets visitors game view from their vehicles. Those who have been on real safaris will find the park a disappointing experience, however. There is a reptile collection, including a number of exotic snakes, and some interesting birds. There are daily lion-taming shows and bird shows, as well as activities like camel rides. Small kids will be delighted with the selection of meek, cuddly animals that they are allowed to interact with. There are two picnic areas in the park and a swimming pool and slide that offer a welcome respite after a day of game viewing. There is even a go-karting track and some paddle boats to play on. It is recommended that visitors bring their own food and also something to feed the animals. Animal food is on sale at the park but it is far cheaper to bring your own.
Address: Carretera de Cadalso de los Vidrios, Navalcarnero, Aldea del Fresno (50km from Madrid)
Website: www.safarimadrid.com/
Telephone: 91 862 2314
Opening times: Daily from 10.30am to sunset
Admission: €16 (adults); €12 (children).