Madrid Zoo and Aquarium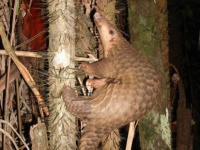 Anteater © Piekfrosch/Nordelch
Home to nearly 3,000 animals from all over the world and an impressive aquarium, the Madrid Zoo is a great attraction for kids on holiday in the city. Highlights of the zoo include koala bears, pandas, zebras, raccoons, bears, reindeers, rhinos, otters, lions, chimpanzees, hippos, lemurs, lynx, buffalo, elephants, wolves, orangutans, baboons, gorillas, giraffes, and tigers. The zoo also boasts a good variety of reptiles and birds. Marine animals include the ever-popular dolphins, seals, penguins, and sharks. There are dolphin and sea lion shows. The queues can get long at the entrance, and there are discounts for booking online, so it is worth booking your tickets in advance via the official website. Luckily, once inside the zoo is so vast that it seldom feels too crowded. Those who have trouble walking or are in a bit of a lazy mood can rent golf carts to get them around. There are plenty of snack kiosks and eateries spread throughout the grounds, but it is also possible to bring your own picnic. It's a good idea to travel to the zoo on the metro, because parking can be a problem on a busy day. The Madrid Zoo can easily keep the family occupied and entertained for a full day.
Address: Casa de Campo, s/n 28011.
Website: www.zoomadrid.com
Telephone: +34 91 526 97 00
Opening times: Hours change according to season and there is a detailed calendar on the official website, but the zoo is usually open between 11am and 6pm.
Admission: €23.85 (adults); €19.30 (children). Concessions available.