Burrolandia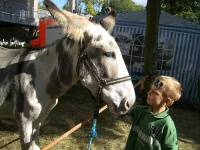 The Burrolandia donkey refuge, just a short way out of the city, is a great place to take children while on holiday in Madrid. With upwards of 26 donkeys to take care of, there is always plenty of loving, petting and feeding needed at Burrolandia - definitely a favourite for kids! And the good, clean country air won't do adults any harm either...
Address: C/Bravo Murillo, 38
Website: www.amiburro.es
Telephone: +34 63 005 8428 or +34 63 996 2728
Opening times: Sundays 11am to 1.30pm
Admission: Free (donations welcome).