Biscayne National Park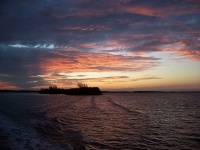 The Biscayne National Park can be seen from downtown Miami but the two areas are completely different. The coral reefs and tiny islands of this water sanctuary are home to an abundance of wildlife for children to see, and even a couple of awe-inspiring pirate shipwrecks. This is a great camping, boating and swimming spot for families.
Address: Dante Fascell Visitor Center, 9700 SW 328th Street, Homestead
Website: www.nps.gov/bisc
Telephone: 305 203 7275
Opening times: Dante Fascell Visitor Center is open daily 9am-5pm.
Admission: Entrance is free; Camping is $15 per night (up to six people and two tents), plus the cost of boat transportation.