Biscayne National Park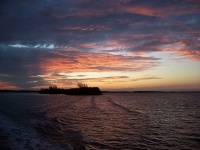 Biscayne National Park © Catholic 85
The Biscayne National Park can be seen from downtown Miami, but the city and the park offer vastly different experiences for tourists. The coral reefs and tiny islands of this water sanctuary are home to an abundance of wildlife, along with a couple of pirate shipwrecks. Biscayne is a great camping, boating, and swimming spot for families, providing a tranquil sanctuary right on the doorstep of Miami for those who need a break from the bustle of the city. There are a variety of boats and watercrafts available for hire - check out the official website listed below for more details.
E-mail: nps_web@nps.gov
Website: www.nps.gov/bisc
Telephone: (305) 230 114
Transport: Access to the park from the mainland is limited to the immediate vicinity of the Dante Fascell Visitor Center at Convoy Point where most tours and activities begin.