Baths of Aphrodite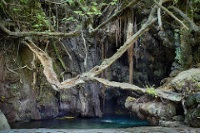 Baths of Aphrodite © Oliver Kratzke
A famous romantic side trip from Paphos is a visit to the natural grotto on the Akamas Peninsula near Polis, 30 miles (48km) north of Paphos, where legend has it that the Greek goddess of love, Aphrodite, used to take her baths. The serene pool, shaded by a fig tree and surrounded by beautiful examples of maindenhair fern, can be reached by nature trails from Akamas.
This attraction has become a bit of a tourist trap and lately it is not the pristine and romantic experience people expect. You can't get into the water which disappoints many visitors, and if you are unlucky enough to visit when there are buses arriving you will hardly have a peaceful experience. However, the trails in the nature park around the pool are beautiful - you can walk all the way to the sea and there are lovely views.
Depending on the time of year, and the time of day, tourists are either charmed by the pool itself or annoyed by what they feel is a lack of anything worthwhile to see. If you combine a brief stop off at the baths with a stroll around the nature park then you can make a great and relaxing excursion of it, but it is probably best not to make an effort to visit the area just to see the pool. There is a restaurant and bar at the site which makes for a good break from trekking in the park.
Address: 30 miles (48km) north of Paphos