Gold Coast Railroad Museum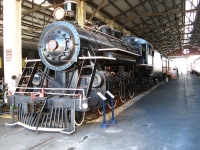 Gold Coast Railroad Museum © Micha L. Rieser
Kids will be delighted by the Gold Coast Railroad Museum, which offers train rides, toy trains to play with, and interesting model train exhibits. The museum's railroad car collection includes President Roosevelt's historic Ferdinand Magellan carriage. In March each year there are Thomas the Tank Engine rides for children. Model train building sessions take place between 10am and 2pm on weekdays, and between 11am and 4pm on weekends. Tours are conducted at specific times each day and cost a small additional fee - check the official website listed below for details.
Address: 12450 S.W. 152nd Street Miami, FL
Website: www.gcrm.org
Telephone: (305) 253 0063
Opening times: 10am-4pm on weekdays, 11am-4pm on weekends.
Admission: Adults and Children age 12 and up $8.00. Children age 2 to 11 $6.00. Children under age 2 enter free.