Miami Children's Museum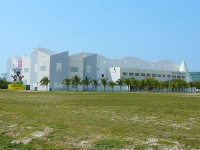 Miami Children\'s Museum © Marc Averette
The child-sized exhibits at the Miami Children's Museum are both colourful and interactive. Kids can explore the museum's simulated hospital, supermarket or fire station, playing with and moving anything they like. The Mt. Michimu rock-climbing wall offers a fun, physical challenge for older children. The museum ensures that there's always something going on to entertain visitors and many fun activities and play areas are always available. For safety reasons, children are not allowed into the museum unaccompanied by an adult, and adults are not allowed into the museum unaccompanied by a child. The Miami Children's Museum is the perfect family attraction for a rainy day in the city!
Address: 980 Macarthur Causeway
Website: www.miamichildrensmuseum.org
Telephone: (305) 373 5437
Opening times: Daily 10am-6pm. Closed Thanksgiving and Christmas.
Admission: $16, free for children under 1 year.