Shear Madness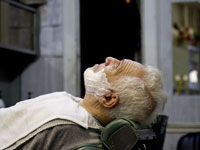 Come to see one of the longest running non-musical plays in the United States. The play is an interactive comedy where the plot revolves around the characters at a unisex hair salon. The landlady gets murdered and the audience gets involved in questioning the actors in an attempt to find out 'whodunnit'. Shear Madness is a great experience for families and children of all ages.
Address: Charles Playhouse, 74 Warrenton St
Website: www.shearmadness.com
Opening times: Tuesday to Friday at 8pm; Saturday 6pm and 9pm; Sunday 3pm and 7pm
Admission: $50, concessions available.