Puppet Showplace Theater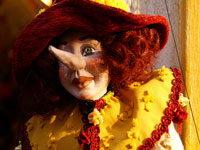 Take the kids to one of the oldest continuously operating puppet theatres in the United States to watch one of their favourite stories, such as Sleeping Beauty, Jack and the Beanstalk or Little Red Riding Hood, told through the medium of puppetry. These award-winning shows captivate the audience and it's not long before even the adults forget they are watching puppets. Reservations are strongly recommended.
Address: 32 Station Street, Brookline
E-mail: boxoffice@puppetshowplace.org
Website: www.puppetshowplace.org
Telephone: (617) 731 6400
Opening times: Shows run daily from 10:30am to 3pm.
Admission: Show prices vary, see website for specific performances.