Pinecrest Gardens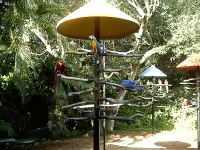 Take the kids to play at the Pinecrest Gardens - its banyan trees and abundant vegetation are just crying out to be explored! Other highlights of the gardens include a fun playground, a petting zoo and the 'Splash 'n Play' water area, as well as a couple of tabled picnic spots.
Address: 11000 Red Road, Pinecrest
Website: www.pinecrest-fl.gov
Telephone: (305) 669 6990
Opening times: Daily 9am-6pm (Spring and Summer), and 9am-5pm (Fall and Winter).
Admission: $3 (adults), $2 (children 2-17).