Ratanga Junction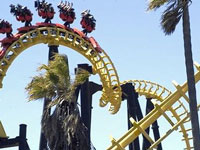 Cape Town's most famous theme park, Ratanga Junction is a must for all those up for a thrilling day out in the sun with plenty of rides and activities to keep even the most active of children occupied. The park features gift shops and a food hall for weary riders, or those just looking to rest their legs for a while. The most popular ride by far is the Cobra, a snake like rollercoaster ride that flips the occupants round 360 degrees.
Address: Century City on the N1 highway
E-mail: info@ratanga.co.za
Website: www.ratanga.co.za
Telephone: 021 550 8504
Opening times: Open 10am–5pm, operational dates vary according to season, detailed schedules are available on the website.
Admission: R142 (adult Adventurer Rider); R70 (child Adventure rider); Concessions available