World of Birds and Monkey Park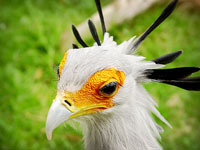 Secretary Bird © coda
With a population of more than 3,000 birds and over 400 different species, the World of Birds is the largest bird park in Africa. Its one-hundred-plus walk-through aviaries allow visitors to encounter the birds in their natural environment. The park has other animals as well. Its mammals include foxes, monkeys, meerkats, racoons, guinea pigs, marmosets, mongooses and porcupines. Monkeys are one of the highlights. Visitors will find more than 30 of them in a large walk-through enclosure, where they can interact with the animals at certain times of day. There are also some reptiles such skinks, iguanas, terrapins and tortoises. World of Birds has a children's play area and a tearoom for parents to stop and take a break.
Address: Valley Road, Hout Bay
Website: www.worldofbirds.org.za
Opening times: World of Birds: 9am to 5pm daily. Monkey Jungle: 11:30am to 1pm and 2pm to 3:30pm daily.
Admission: R95 (adults); R45 (children).