Seal Island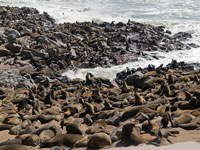 Cape Fur Seals © markos
Take a trip to one of Cape Town's Seal Islands for some good sightings of these comical animals at play and rest. Although several tiny islands off the Cape coast are unofficially called 'Seal Island', the most well-known is probably Duiker Island, located just outside of Hout Bay. Boats leave regularly from the Hout Bay docks and take passengers on a trip outside the harbour and into the ocean, where breath-taking views can be enjoyed of Hout Bay and all the way across to Noordhoek, Chapman's Peak and Kommetjie. The boat stops just below the Hout Bay Sentinal where hundreds of Cape Fur Seals bask on the small island in the sun. The sight is a smelly, yet magical one and it is a treat to see these creatures in their natural habitat. Many of the boat tours use glass-bottomed boats which allow passengers to see the seals zipping about underwater.
The charming naval harbour of Simon's Town also has a small Seal Island and boat trips can usually be arranged from there as well. The Great White Sharks that frequent False Bay often lurk around the islands, which are naturally a sort of buffet for them, and sightings of these amazing creatures are also possible, although more rare. A variety of other sea creatures might be seen on these lovely boat trips and an excursion out into the sea is worthwhile even if you aren't visiting one of the islands.
Address: Hout Bay Harbour or Simon's Town Harbour.