Cyprus Medieval Museum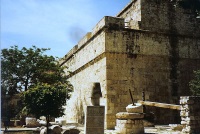 Limassol Castle © Bayreuth2009
Built in the 14th century, Limassol Castle stands guard over the old harbour on the site of an earlier Byzantine castle. Today it houses the Cyprus Medieval Museum with a host of fascinating exhibits dating back to the Early Common Era (384-650). The museum's collection boasts an array of weaponry and armour, including swords, helmets, and the 500 year old canons which still adorn the battlements. The castle is most renowned for being the place where crusader King Richard the Lionheart married Berengaria of Navarre and crowned her Queen of England in 1191.
Address: Limassol Castle, Richard and Berengaria Street
Website: www.visitcyprus.com/index.php/en/discovercyprus/culture-religion/museums-galleries/item/135-museums-galleries
Opening times: Monday to Saturday, 9am to 5pm. Sunday, 10am to 1pm.
Admission: €4.50