Cyprus Medieval Museum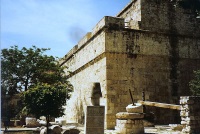 Limassol Castle © Bayreuth2009
Limassol Castle, built in the 14th century, stands sentinel over the old harbour on the site of an earlier Byzantine castle. Today it houses the Cyprus Medieval Museum with a host of fascinating exhibits dating back to the Early Common Era (384-650).
The museum's collection boasts an array of weaponry and armour, including swords, helmets and the 500 year old canons which still stand guard on the battlements. Apart from this, there is a collection of 12th to 18th century pottery and some interesting old grave markers. The cells in the basement of the castle were used as a prison until as late as 1950.
The castle is most renowned for being the place where crusader King Richard the Lionheart married Berengaria of Navarre, and crowned her Queen of England in 1191. This museum is mainly interesting for lovers of military history but even if you don't visit the museum, if you are spending the day on the beach it is worth having a stroll around the outside of this wonderful old medieval fort and letting your imagination run wild.
Address: Limassol Castle, Richard and Berengaria Street
Website: www.visitcyprus.com/index.php/en/discovercyprus/culture-religion/museums-galleries/item/135-museums-galleries