Chicago Children's Museum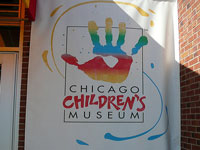 Chicago Children's Museum © Octavio Ruiz Cervera
The Chicago Children's Museum is a must for kids of all ages. Located on Navy Pier, the museum offers three storeys of interactive exhibits offering plenty of hands-on fun. The main attraction at the museum is without a doubt the three-storey tall replica of an 1850s Schooner, which is a huge climbing course. The 'Inventing Lab', 'Waterways' and Dinosaur attractions are also highly popular with the little ones. Kids can play in anything from tree houses to model skyscrapers and furniture forts, and there are endless toys to tinker with. Older kids will enjoy the organised craft activities and building workstations. Exhibitions and activities are frequently changed to keep everything new and exciting for regular visitors.
Address: 700 East Grand Avenue
Website: www.chicagochildrensmuseum.org
Opening times: Open daily 10am-5pm, closes 8pm on Thursdays.
Admission: $14 for adults and children over one. Concessions available.