Chicago Botanic Gardens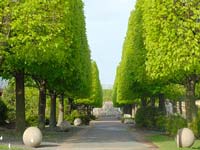 Linden Allee, Botanic Garden © Cbgde08
With plenty of wide-open space for kids to run around, the Botanic Gardens is one of Chicago's most beautiful attractions. During the summertime, be sure to explore the Rose Garden, where over 7,750 plants are in full bloom. A number of greenhouses, including a gorgeous orchid collection, can be explored in the gardens. There are also children's programmes available during the summer, as well as numerous fun events and exhibitions. Check the official website listed below for more information.
Address: 1000 Lake-Cook Road, Glencoe
Website: www.chicago-botanic.org
Telephone: (847) 835 5440
Opening times: Open daily 8am-7pm.
Admission: Entrance is free, but there are parking fees.