Chicago Botanic Gardens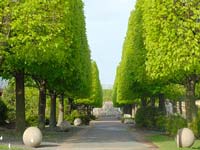 A great place for families to unwind and relax with a picnic, is the Chicago Botanic Gardens. With plenty of wide-open space for kids to run around, the Botanic Gardens is one of Chicago's most tranquil and beautiful attractions. During the summertime, the Rose Garden, where over 7,750 plants are in full and glorious bloom, is a must and an unforgettable experience to wander through. There are also children's programmes available during the summer, check the website for information.
Address: 1000 Lake-Cook Road, Glencoe
Website: www.chicago-botanic.org
Telephone: (847) 835 5440
Opening times: Open daily from 8am to sunset. Closed Christmas Day.
Admission: Free, $20 per car parking fee.