Children's City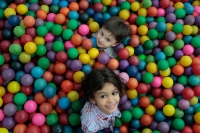 Happy kids © Caio Vinicius Reis de Carvalho
This 82,890-square-foot (7,700 sq-metre) education park is located in Dubai Creek Park and offers a wide range of activities geared towards kids, making the educational process fun. Children can learn all about the human body, science and space and the park also features a theatre, café, souvenir shop and wonderful views of the creek.
Address: Dubai Creek Park
Website: www.childrencity.ae/CHCITY
Telephone: 04 334 0808
Opening times: Open Monday to Friday 9am-8:30pm. Closes 3pm Fridays.
Admission: AED 15 (adults); AED 10 (children)