Troodos Mountains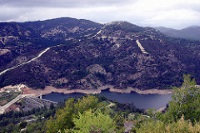 Troodos Mountains © Leonid Mamchenkov
The Troodos Mountains, in the interior of Cyprus, north of Limassol, offer beautiful scenery and a selection of four interesting signposted walks for nature lovers.
The Artemis Trail is circular, extending four miles (7km) in the Black Pine region through the distinctive sub-alpine flora of the area. Orchids can be found under the pines, and one may spot the rare Epipactis condensata. The Atalanta Trail, six miles (9km) long, starts at Troodos and also offers rich plant life, spectacular scenery and birdwatching opportunities. The shorter and easier Caledonia Trail, covering two miles (4km), follows the Kryo Potamo stream about one mile (2km) from Platres, and winds through pine forest, and among plane trees. It also bypasses the Caledonian Falls, which are the only waterfalls on Cyprus. The Persephone Trail, named after the Greek goddess of spring, is about two miles (3km) long and offers lovely views. The trails are advertised as summer trails but there is so reason that they wouldn't delight hikers during all the seasons.
The Troodos Mountains are the largest mountain range in Cyprus, so it is no wonder that they are a popular winter destination as well; this is one of only a handful of places in the world where visitors can ski in the morning, and swim and sun tan in the afternoon!
The main ski slopes are on the 6,401 foot (1,951m) Mount Olympus, roughly an hour's drive from Nicosia or Limassol, and the ski season extends from the beginning of January to the end of March. Although the skiing is set in a beautiful place and can be very rewarding, visitors should not expect Alpine standards or piste or snow reliability. Cyprus is a good place to learn to ski because although the conditions aren't always perfect, the atmosphere is very friendly and many of the ski runs are not overly demanding.
Address: Located roughly in the center of the island
Website: www.mytroodos.com/en/